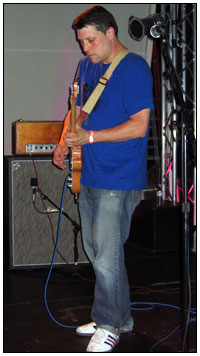 Trans Am opened up for Polvo this past Labor Day weekend at the Echoplex in Echo Park. It was the second show since Polvo reunited after a ten year hiatus.
A week before the show I randomly went to Trans Am's myspace page and learned of the tour. I thought I was seeing things. Trans Am opening for Polvo? The only other time I saw Polvo was back in 1998 at Tramps in NYC, and Trans Am opened up! That was the first time I ever heard of Trans Am, and thank god for that.
Fast forward 10+ years to Los Angeles at the Echoplex. Trans Am put forth their usual tight, mind-blowing, grade A performance. They're always fresh and powerful, crisp and colorful. TA remains in my top 5 bands to see live. Phil, Nate and Seb comprise this forceful trio, each with their own unique personality and musical traits contributing to the aural flavor. Phil even helped me pick out a Trans Am t-shirt after the show.
Polvo followed and the anticipation was high. I really couldn't believe it was them until they took the stage. Yes, it was them, with their signature guitar conversations and complicated progressions. However, in my opinion, they were somewhat understandably rusty. Polvo's eloquent complexities and organized chaos seldom resembled that of the '98 Tramps show. Their detailed and precise guitar duo often broadcasted mushy and muffled over the Echoplex's sound system (technical difficulties to blame?).
At the same time, there was no denying the veteran stage presence and raw talent. Visuals alone got me immersed in the experience, from the first notes jammed by Ash Bowie's leaned back ax delivery. Don't get me wrong, they certainly had spans of divine musicianship, especially during renditions of Fast Canoe, Feather of Forgiveness and Enemy Insects. But even Polvo recognized it wasn't their best performance. Before playing the first encore tune, Dave Brylawski inquired to the fans, "you're going to give us another chance?".
Whatever . . . bravo Polvo. Thanks for the opportunity to see live what I once thought was lost.
Phil Manley of Trans Am
(L-R) Nate Means, Sebastian Thomson and Phil Manley of Trans Am
(L-R) Ash Bowie, Steve Popson, Brian Quast and Dave Brylawski of Polvo
Ash Bowie of Polvo